Save on Sesame Street Live: "Can't Stop Singing" Tickets
Does your child love Sesame Street? I loved Sesame Street as a kid and was disappointed that my daughter never really enjoyed it. Even so, she did enjoy the one Sesame Street Live performance that we took her to.
Sesame Street Live: "Can't Stop Singing" will be at the Fox Theatre in Detroit from Thursday, January 23 through Monday, February 17 (there are 40 shows listed on Ticketmaster).
Disclaimer: I am a Groupon Affiliate and am compensated for sales through Groupon links. I appreciate your support of my blog by shopping through my links. Please read all terms and conditions before purchase as they are only summarized here.
Groupon is offering discounted tickets for select performances. There are three ticket options to select from:
$29.50 Rows A-M of main floor sections F2 or F5 or rows B-M of sections F3 or F4, or the mezzanine section (up to a $42.25 value)
$19.25 for ros N-=DD of main-floor sections F2-F5 or rows A-K of the gallery A section (up to $32.05 value)
$10.50 for rows EE-SS of main-floor sections F2-F5 or rows L-T of the gallery B (up to $21.35 value).
The deal is available for purchase through Monday, January 20 or while supplies last.
One thing that I love about the Groupon G-Pass is that it includes all fees. I hate buying a ticket and having $10 or more in fees added to it. Your G-Pass will be available to print 48 hours after the deal ends and can be used directly for entry to the theatre. Unfortuantely it must be printed and cannot be redeemed from your mobile device. There is a limit of 8 G-Pass ticket purchases per person.
Sesame Street Live: "Can't Stop Singing"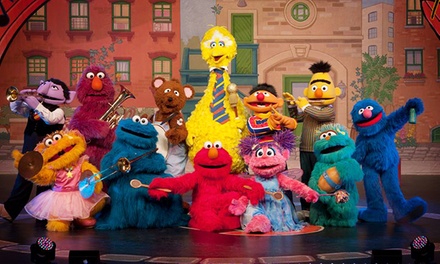 Sesame Street Live: "Can't Stop Singing" at Fox Theatre on January 24–February 14 (Up to 51% Off)
The following two tabs change content below.
Ann Arbor with Kids is your go-to source for Ann Arbor Family Fun. It got its start in an activity list that I was compiling for the playgroup I ran at our church. When my daughter started preschool, the other moms were thrilled to hear about my list. I decided to take the list public in 2009.
Latest posts by a2withkids (see all)