Grow an Easter Centerpiece at Plymouth Nurseries
Plymouth Nursery will be holding a "Grow an Easter Centerpiece Kids Workshop" on Saturday, April 5 at 1p.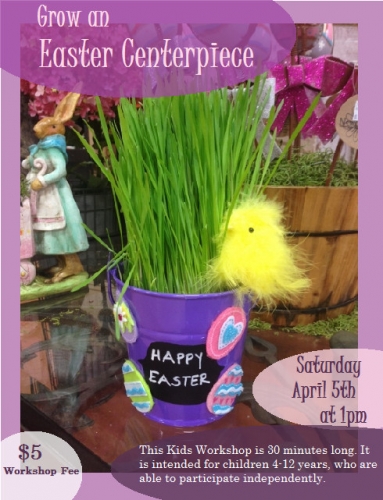 KIDS WORKSHOP – Saturday April 5th at 1pm
Come and make an adorable Easter Centerpiece, and watch your wheatgrass grow before the holiday! We will learn what living things need to grow and even have a snack.
This 30 minute workshop is intended for children ages 4 – 12, who are able to participate independently.
Space is Limited. Please call to reserve your spot.
734-453-5500
Class Fee – $5
Plymouth Nursery is located at 9900 Ann Arbor Rd. See more information on their website.