Mini-Golf Deal at Putterz in Ypsilanti
Now that the snow is almost melted and the temperatures have warmed up, it is a great time to turn towards outdoor activities such as mini-golf. My daughter loves playing mini-golf. The closest mini-golf course to Ann Arbor is Putterz at 2675 Washtenaw Avenue in Ypsilanti. According to their website, they are scheduled to open for the 2014 season on April 4.
Disclaimer: I am a Groupon Affiliate and am compensated for sales through Groupon links. I appreciate your support of my blog by shopping through my links. Terms & conditions are only summarized here. Please read fully before purchasing your deal.
Putterz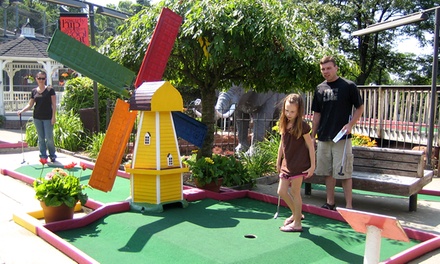 18 Holes of Mini Golf for Two or Four with Soft Drinks or Icees at Putterz (Up to 58% Off)
Groupon is offering a deal for Putterz. The deal includes 18 holes of golf and a soft drink or Icee per person. A two-person package can be purchased for $8 or a four-person package for $15. Your deal is valid until July 3
The following two tabs change content below.
Ann Arbor with Kids is your go-to source for Ann Arbor Family Fun. It got its start in an activity list that I was compiling for the playgroup I ran at our church. When my daughter started preschool, the other moms were thrilled to hear about my list. I decided to take the list public in 2009.
Latest posts by a2withkids (see all)