Save on Passes to The Jungle Gym
The Jungle Gym opened in Ypsilanti last year at the location that was formerly Zoobilee and then The New Zoo. Play sessions are a great place to take the kids during the summer on extremely hot or rainy days. I love them because I can bring my laptop and use the WiFi while my daughter and her friends play.
Disclaimer: I am a Groupon affiliate and am compensated for sales through Groupon links. I appreciate your support of my blog by shopping through my links. Please read terms and conditions before purchase. They are only summarized here.
Groupon is currently offering discounted passes for The Jungle Gym. You can purchase a 5 play pass for $15 or a 10 play pass for $30. The pass is good for 180 days from the purchase date. There is a limit of 3 per person and a limit of 1 per visit.
The Jungle Gym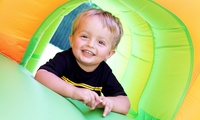 5 or 10 Open-Play Passes to The Jungle Gym (Half Off)
The following two tabs change content below.
Ann Arbor with Kids is your go-to source for Ann Arbor Family Fun. It got its start in an activity list that I was compiling for the playgroup I ran at our church. When my daughter started preschool, the other moms were thrilled to hear about my list. I decided to take the list public in 2009.
Latest posts by a2withkids (see all)