Savings on Summer Camp at Cirque Amongus
Is your child a budding circus star? If so, yo may want to enroll them in Livonia's Cirque Amongus camp. Camp meets for 2 hours daily for a week (Monday-Friday). My daughter has enjoyed participating in activities form Cirque Amongus at various events where they have had demonstrations. Cirque Amongus camp is for kids ages 6-14.
Disclaimer: I am a Groupon Affiliate and am compensated for sales through Groupon links. I appreciate your support of my blog by shopping through my links. Please read all terms and conditions before purchase as they are only summarized here.
Through today, Groupon is offering discounted summer camp enrollment. You can register for select sessions for $99 (a $210 value).
Cirque Amongus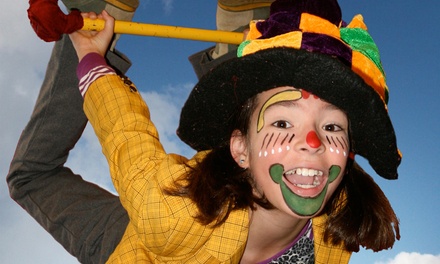 Five-Day Circus Summer Camp at Cirque Amongus (53% Off). 10 Options Available.
The deal is available for 10 different camp sessions. You will purchase the deal for a specific session.
Sounds like a great deal that would be a lot of fun for kids.
The following two tabs change content below.
Ann Arbor with Kids is your go-to source for Ann Arbor Family Fun. It got its start in an activity list that I was compiling for the playgroup I ran at our church. When my daughter started preschool, the other moms were thrilled to hear about my list. I decided to take the list public in 2009.
Latest posts by a2withkids (see all)