Activity Deals – Perfect for Summer or Birthday Parties
Just in time for summer, many local activity venues are rolling out admission deals. While my daughter will be in camps for much of the summer, we have a few weeks off and our weekends tend to be less busy as there are less soccer game, scout events, birthday parties, etc.
Disclaimer: I am compensated for sales through Groupon, LivingSocial, & Amazon links. I appreciate your support of my blog by shopping through my links. Please read terms & conditions before purchase as they are only summarized here.
This morning I was very excited to see that Amazon Local is offering a deal for Zap Zone laster tag. We had never visited Zap Zone until my daughter attended a birthday party in January and she loved it. A few weeks later, her Girl Scout troop had a fund raiser there and she had fun again. She wants to go back, so I am definitely going to purchase this deal.
The Zap Zone in Ann Arbor is offering two options…$13 for 2 games and 2 glow items for 2 (1 game and 1 glow item each) or $259 for a Supreme Glow Party Package (2 laser tag games, 1 game cannon blaster or bumper cars, 1 glow items, 2 slices pizza, and a soda per person). Your deal will be valid for 180 days from purchase. Deals are available for other Zap Zone locations, however you will need to purchase the deal for the location you wish to visit.
Last year my daughter had her birthday party at Xtreme Bounce Zone. After years of hating inflatables as a toddler/preschooler, she suddenly started loving them when she hit Kindergarten. I appreciated that I could invite up to 30 kids and bring my own food or purchase pizza from Little Caesars. LivingSocial is currently offering a 5 visit bounce pass for $17 ($35 value) or a weekday birthday party for $125 ($250 value). The birthday party is for up to 30 kids for 2.5 hours Monday-Thursday. Either option is valid until January 25, 2015. I am thinking of asking my daughter if she is interested in an Xtreme Bounce Party again next year.

Two weekends ago my daughter attended a birthday party at Skatin Station in Canton. I can't remember the last time I was in a roller skating rink. While roller skating wasn't my daughter's cup of tea (although she gamely made it around a few times), many of the girls had fun. Groupon is currently offering a deal for Skatin Station. There is a deal for two people ($14 -2 admissions, 2 skate or blade rentals and 2 medium sodas) or four people ($25 – 4 admissions, 4 skate or blade rentals, 4 medium sodas). There is a limit of 2 deals per person, plus 4 additional as gifts. Your Groupon will be valid for 180 days from purchase and is available for purchase through May 6, at 11:59p.
Skatin Station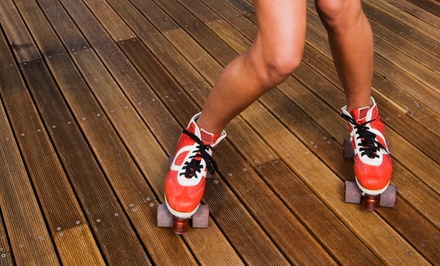 Roller Skating or Blading Package with Skate Rental and Sodas for Two or Four at Skating Station (Up to 64% Off)
I have been wanting to checkout Sky Zone in Canton since they opened, but we have never made it in part because it is relatively expensive. However, Groupon is offering a deal for 1 hour of jump time for two people plus two pairs of stocks for $18. Your Groupon will expire on July 30th, is not valid on Saturdays, and is only valid for walk-in sessions. There is a limit of one per person.
Sky Zone Canton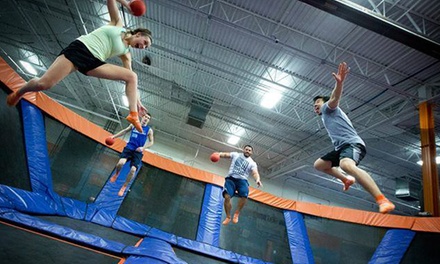 $18 for a One-Hour Trampoline Session for Two at Sky Zone ($30 Value)
Other deals that are available include:
The following two tabs change content below.
Ann Arbor with Kids is your go-to source for Ann Arbor Family Fun. It got its start in an activity list that I was compiling for the playgroup I ran at our church. When my daughter started preschool, the other moms were thrilled to hear about my list. I decided to take the list public in 2009.
Latest posts by a2withkids (see all)