Save on Tickets for Maker Faire Detroit at the Henry Ford
Maker Faire Detroit is an annual event held each July at The Henry Ford. The 2014 event is July 26-27 with events both indoors at the museum and outdoors in the parking lot between the museum and Oakwood Dr (Handicapped parking will remain open in the lot).
Maker Faire celebrates the DIY culture with people making all types of things – robotics, electronics, rockets, fashion, etc. They are expecting more than 400 participants for 2014. There will be live music, arts and crafts, and kids activities.
Admission is $28 for adults (ages 13-61) and $19 for youth (ages 5-12) – kids ages 4 and under are free. Your ticket includes all day admission to The Henry Ford Museum.
Disclaimer: I am compensated for sales through Groupon links. I appreciate your support of my blog by shopping through my links. Please read terms & conditions before purchase, they are not included here.
Henry Ford Museum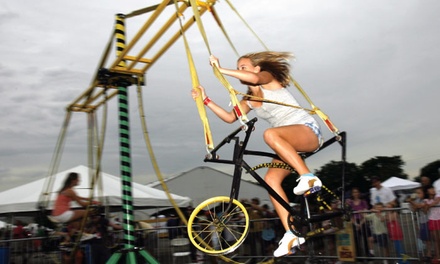 Detroit Maker Faire Tickets for Two or Four at Henry Ford Museum on July 26th or 27th (Up to 50% Off)
However, Groupon is offering ticket savings for Maker Faire Detroit. You can purchase 2 tickets for $28 ($56 value) or 4 tickets for $56 ($112 value). You do need to select which day you will attend when purchasing your tickets.
The following two tabs change content below.
Ann Arbor with Kids is your go-to source for Ann Arbor Family Fun. It got its start in an activity list that I was compiling for the playgroup I ran at our church. When my daughter started preschool, the other moms were thrilled to hear about my list. I decided to take the list public in 2009.
Latest posts by a2withkids (see all)