Ann Arbor Summer Fun for July 22
There are a few activities on the schedule for today, and lots of summer fun activities that happen all summer long. In addition to the events and activities calendar, I am including some links to deals and a giveaway.
Tonight is a good night to stop by Mancino's in Saline for dinner to benefit the #ChadTough Foundation. Entertainment will be provided by Gordo the Magician. Also tonight is the Ann Arbor Civic Band Concert – "At the Movies" at West Park.
Ideas for at home activities include working on your entry for the AADL LEGO Contest.
The weather is great for swimming. We've visited both Rolling Hills and our neighborhood pool, but there are plenty of places to get wet around Ann Arbor.
Wednesday is bargain movie day at Rave Cinemas. 2D Shows are only $5.50 all day. 3D shows are only $8.50. There are lots of great movies at the theater that my family has enjoyed seeing. Or, there is the Dollar Movie showing of Arthur Christmas at Quality 16.
Visiting one of Our Top 5 Ann Arbor Area Museums for Kids is also a great way to spend time.
If you're thinking of visiting Cedar Point later this summer, Groupon is currently running a fantastic deal. We've had a great time visiting Cedar Point in past years. My daughter LOVES roller coasters!
Disclaimer: Ann Arbor with Kids is compensated for sales through Groupon links. Thank you for supporting the site by shopping through these links.
Cedar Point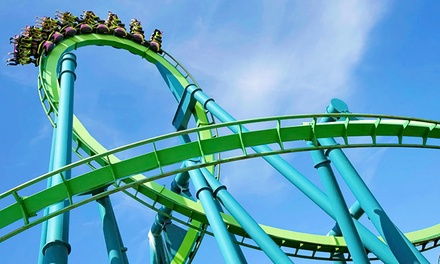 $39.99 for Admission for One to Cedar Point – Everyone Pays Kids' Price ($61.99 Value)
Full event list for Wednesday, July 22:
P.S. Don't forget to enter to win tickets to see Untangled: The True Story of Rapunzel.
The following two tabs change content below.
Ann Arbor with Kids is your go-to source for Ann Arbor Family Fun. It got its start in an activity list that I was compiling for the playgroup I ran at our church. When my daughter started preschool, the other moms were thrilled to hear about my list. I decided to take the list public in 2009.
Latest posts by a2withkids (see all)