Apple Orchards, Cider Mills, and Corn Mazes in the Ann Arbor Area
There are several signs that fall is here…kids returning to school, apple picking, and corn mazes. For years, we have loved visiting the apple orchard or cider mill. Two years ago we visited a corn maze for the first time and have made it an annual tradition.
I have compiled information on several of the local apple orchards, corn mazes, and cider mills. If I missed someplace, let me know in the comments or by email.
U-Pick Apple Orchards
Wasem Fruit Farm
Our favorite orchard to visit is Wasem Fruit Farm which offers a number of varieties of apples for u-pick. They also offer pumpkins later in the fall and raspberries early in the fall. They serve donuts and cider (which is also available by the gallon. I recommend arriving early and getting your donut and cider first as the lines get long. One of our favorite purchases there is also popcorn by the gallon (also available in smaller jugs). My husband loves popcorn. Last year we bought a gallon when we went apple picking and it was almost half gone by the time we went pumpkin picking. Wasem Fruit Farm is located on Judd Rd in Milan. They opened for the 2015 season on Thursday, September 10. We visited the orchard on September 26 and had great picking conditions – perfect weather and the apples were plentiful on the trees.
Spicer Orchards
Spicer Orchards in Fenton is another farm where we have picked both apples and cherries in the past. They are the best location for cherries offering both sweet and tart (pie) cherries typically in July. We don't typically pick apples there since they are further from our house. They also offer a lot of other activities such as inflatables, playground, animals, hayrides, pony rides, train rides, face painting, sand art, and more. Many of the extra activities have an added cost. They also offer a winery and a few indoor tables to enjoy your cider and donuts away from the yellow jackets.
Wiard's Orchard and Country Fair
Wiard's Orchard and Country Fair combines u-pick fruit with the activities of a country fair. In addition to offering u-pick apples, they also offer family fun with corn maze, playgrounds, slides, inflatables, mini-golf and more. The downside is the admission price ($9.50/person Wednesday-Friday and $15.50/person Saturday & Sunday. Babies under 2 are always free) that is required even to pick apples or pumpkins. We have only visited the market at Wiard's (once), and never their orchard or Country Fair, largely due to the cost. Our visit was around lunchtime on a Sunday and the parking lot was crowded for the Orchard and Country Fair. Wiard's also operates Night Terrors on Fridays, Saturdays, and some Sundays beginning on Friday, September 25. I recommend Night Terrors for tweens, teens, and adults.
Coleman's Corn Maze
Starting in 2014, Coleman's Corn Maze also started offering u-pick apples. We have never picked apples there, but it is certainly convenient to have both an apple orchard and a corn maze at the same location.
Cider Mills & Non U-Pick Orchards
Dexter Cider Mill
Dexter Cider Mill is located just a few blocks from Downtown Dexter on the Huron River. It is the oldest continuously operating cider mill in Michigan. They offer fresh cider and donuts and also have a winery. The Dexter Cider Mill is a nice place to stop for a donut and cider, but does not offer much in the way of entertainment. We visited three years ago after school and my daughter and her friends enjoyed skipping rocks into the river.
Plymouth Orchards and Cider Mill
A word of warning, Plymouth Orchards does not offer u-pick apples. They offer apples for sale at the Cider Mill and "pumpkin picking" via hay ride.
Three Cedars Farm
Three Cedars Farm in Northville offers a cider mill, hay rides, corn maze and a u-pick pumpkins. I have never visited Three Cedars Farm, but it was recommended by a reader last year and I know a number of people that return each year.
Corn Mazes
Talladay Corn Maze
Conveniently located next door to Wasem Fruit Farm is Talladay Corn Maze. They offer two mazes which open for the 2015 season on Friday, September 18. A third haunted maze will open on Friday, October 2. I recommend the haunted maze for tweens and teens, and not for younger kids. You can hear the haunted maze (screeching, chain saws, etc) from parts of the regular maze. If your child is particularly sensitive to these noises, I suggest visiting in daylight since the Haunted Maze doesn't open until dusk. In addition to the corn mazes, they offer the Kids Corner for kids ages 8 and under. The Kids Corner is a very reasonable $2/child including one barrel train ride and unlimited time on each activity (giant spider web, straw bale maze, straw pile, and games). Our 2013 visit to Talladay Farms Corn Maze was our first corn maze and we visited twice – once in the daytime and once in the evening. Last year we returned around 6p and were able to complete the maze before it got too dark. We had a lot of fun and hope to return to a corn maze again this year.

Disclaimer: Ann Arbor with Kids is compensated for sales through Groupon links. Your purchases help to support the site and keep it free.
For the last several years Groupon has offered a deal for Talladay Farms. You can purchase a set of 2 or 4 tickets with options for the regular maze, haunted maze, or a combination ticket.
Talladay Farms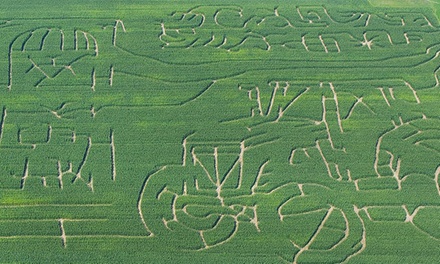 Two or Four Tickets to a Corn Maze or Haunted Maze at Talladay Farms (Up to 50% Off)
Coleman's Corn Maze
Coleman's Corn Maze is located in Saline. The Corn Maze opened on Friday, September 11 for the 2015 season. They also offer a pumpkin patch, hay pile climb, barrel train rides, and animals. I love that I can combine apple or pumpkin picking with our corn maze trip.
Blast Corn Maze
Blast Corn Maze is located in Dexter. Their corn maze has 3 levels of difficulty. They also offer picture props, corn cannon, cow train, duck races, and pedal cars. Blast Corn Maze opens on September 26, 2015 for the season.
Have I missed any apple orchards, cider mills, or corn mazes in the Ann Arbor area? Which is your favorite?